Agrivoltaics : Benefits and Design Optimization for Irradiation
In our pursuit to achieve a sustainable planet and zero emission, we need to implement effective and efficient ways to generate renewable energy.
Agrivoltaics – or Agri-PV – is a smart solution to put large surfaces of land and fields to use to generate solar energy on the hand, and agricultural production on the other hand. In short: land is being used to produce both food and renewable energy.
These large pieces of lands and fields are mostly situated in open spaces or areas with little to no surrounding obstacles, making them the perfect locations for generating a high solar energy yield. 
When practicing agrivoltaics, solar panels are placed above the crops and are creating shade. This shade has positive effects for agricultural production and development. Below we discuss what the benefits of agrivoltaics are.
The benefits of agrivoltaics
Agri-PV offers many advantages for farmers that want to install their first solar installation or want to expand and increase their solar yield. 
Agrivoltaic solar systems offer a great solution to expand the existing solar installation in case there is limited rooftop space available. 
Even when there's sufficient rooftop space, it may be that not all rooftops are suitable for solar panels. For instance some rooftops may be structurally insufficient or not in the optimal position for solar panels.
Rooftops are often surrounded by obstacles such as trees and buildings. These obstacles may create too much shade for a (new) solar installation to generate sufficient solar yield. Read more how surrounding obstacles may affect solar energy yield here.
Agri-pv systems allows farmers to put their lands to good use in case it is (temporarily) unsuitable for agricultural production. 
In addition, an agri-pv installation is a good way to use space as efficiently as possible. Farmers do not have to give up productive agricultural land for generating solar yield. Instead, it is possible generate renewable energy without losing any additional space.
In addition to the many benefits for solar energy yield, there're also a great number of advantages for agricultural production and development. Solar panels:
Can protect your crops against hail, frost, sunburn, drought or high temperatures.
Keep the ground moist(er) and protect crops from direct sunlight, resulting in a cooler and more productive environment for plant growth.
Create moderate temperatures which extend the growing season.
Improve taste: some vegetables are sweeter and crunchier.
Are positively affected by the water that is being transferred from the crops to the environment, as it creates cooler conditions for the panels.
Increase global land productivity.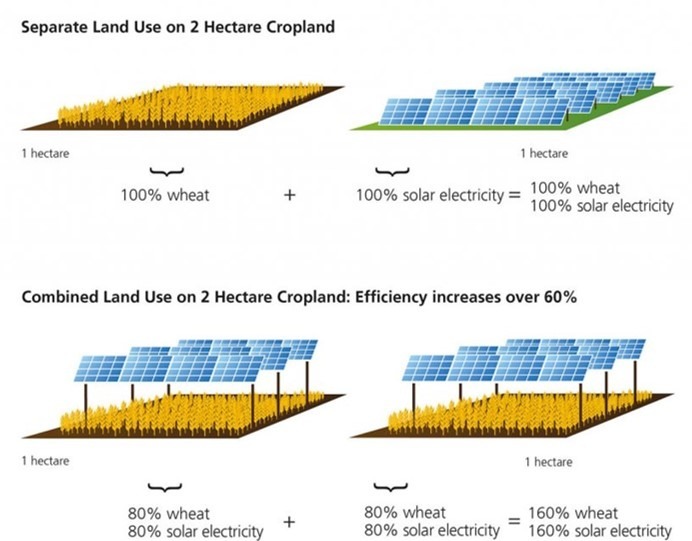 During the design process of large-scale agri-PV layouts, some challenges may arise. The following items need to be taken into account:
Height
One thing to consider is the height of the mounting systems on which the solar panels are placed. Farmers need space and height to allow farming and harvesting with (large) machinery. If the height beneath the solar panels is too low for their machinery, farmers will have to manually harvest their crops. This leads to more time consuming – and thus more expensive – manual work. Therefore it is important to carefully consider the type of crops that can be used underneath the solar panels. For instance, berries or fruit trees will require more height than vegetables.
Costs
This leads to a second challenge: costs. The higher the mounting system and installation, the more expensive materials and anchoring will be.
In addition, it is important that crops are being grown and energy is being generated at the same time, without any conflict.
Sunlight
Moreover, farmers need to make sure that their crops will receive a sufficient amount of sunlight in order to grow. The amount of sunlight that is needed, will affect the solar system layout.
Before starting with Agri-PV, it is important to know if the crops are suitable for an agrivoltaic solar system layout. For this we need to look into shade-tolerant species. The crops or fruit being grown, will affect the choice of ground mounted solar system that can be used.
For instance, recent research has shown that it is possible to grow soybeans in agrivoltaic solar systems.
Livestock
Some solar parks have sheep or other livestock grazing in the fields. Combining solar panels with livestock is also definitely an option.
Having livestock will also have an impact on the height of the solar panel system. For instance, small animals such as sheep will require less height than medium or large sized animals such as horses.
There are several options to design an agrivoltaic solar system for optimal agricultural production and solar energy yield.
The main agrivoltaic solar systems are :
Stilt mounted solar systems
Greenhouses
Vertical mounted
Optimize your solar system layout
How to design an agri-pv solar layout that allows sufficient sunlight
As we've mentioned earlier, crops need sufficient sunlight to grow – some crops need more than others. After doing research to find out how much sunlight a specific type of crop need, it is time to think about the layout of the installation itself. 
We can make sure that crops receive sufficient sunlight in the design phase of the ground mounted solar layout system by :
Choosing PV panels that are partially transparent
Increasing row spacing of the solar system
Increasing structure height of the solar system
Combining space and height
Usage of transparant PV modules
Image: Bisol Lumina solar module.
Some solar panels have a transparent back sheet which allow 30% of the sunlight to go through the solar panel.
More sunlight will reach the crops, resulting in a better growth. Moreover, crops reflect sunlight. The light that is being reflected will insolate on the rear side of the panel (bifacial).

PV design software for irradiation simulation
PV design software allows you to simulate the irradiation on crops. By setting parameters, you'll be able to generate a simulation. Based on this simulation, you can optimize the layout of your agri-PV project.
Virto.CAD, our PV design plugin for AutoCAD or BricsCAD, helps you to optimize your solar installation.
Not only are you able to design the entire ground mounted solar system but also to generate 3D imagery,  create Bill of Materials, and simulate the irradiation.
In Virto.CAD you can:
Simulate the irradiation of the sun according to weather data of the nearest weather station.
Set a period of simulation (e.g. only Spring or Summer)
Set the PV module transparency (e.g. 30%)
Visualize output in kWh/m2 or % as heatmap
Include panels (incl. transparency) and structural elements in the simulation
Irradiation simulation - example for a stilt mounted PV project
In this section two simulations have been generated for an agrivoltaic stilt mounted system, using different parameters.
Left image has : 
1.5 m interrow distance
2.7 m height
solar panels with 0% transparancy
Right image has :
1.5 m interrow distance
2.7 m height
solar panels with 30% transparancy
The irradiation simulation in Virto.CAD clearly shows that solar panels with 30% transparancy, allow more sunlight to reach the crops (green); while 0% transparant solar panels block much more sunlight (blue).
Agri-PV is the combination of generating solar energy yield and agricultural production and development.
Optimizing the design of the solar system is a must to successfully implement agri-PV and ensure maximal energy yield and growth of crops. To guarantee a sufficient amount of sunlight on crops, the solar system design requires an optimal height and row distance.
The implementation of agri-PV results in approx. 60% yield and gain on combined farmland and solar use.
Lastly, Agri-PV leads to the creation of microclimates. These result in extended growth seasons and bigger and tastier crops.
Virto.CAD PV design software can be used to plan and design the entire engineering process of a large-scale ground mounted solar system for agrivoltaic use. It automates layouts and 3D images and allows engineers to simulate irradiation.
Try Virto.CAD for free for 30 days (request here) and experience all its features and functionalities. Our support team can assist you too.
Schedule a free 90-minute demonstration in which our customer success team will introduce you to our PV design software.
Request a free trial, schedule a demo, give us your feedback or ask us anything!
Simply drop us an email or give us a call.
Our team will be happy to assist you.