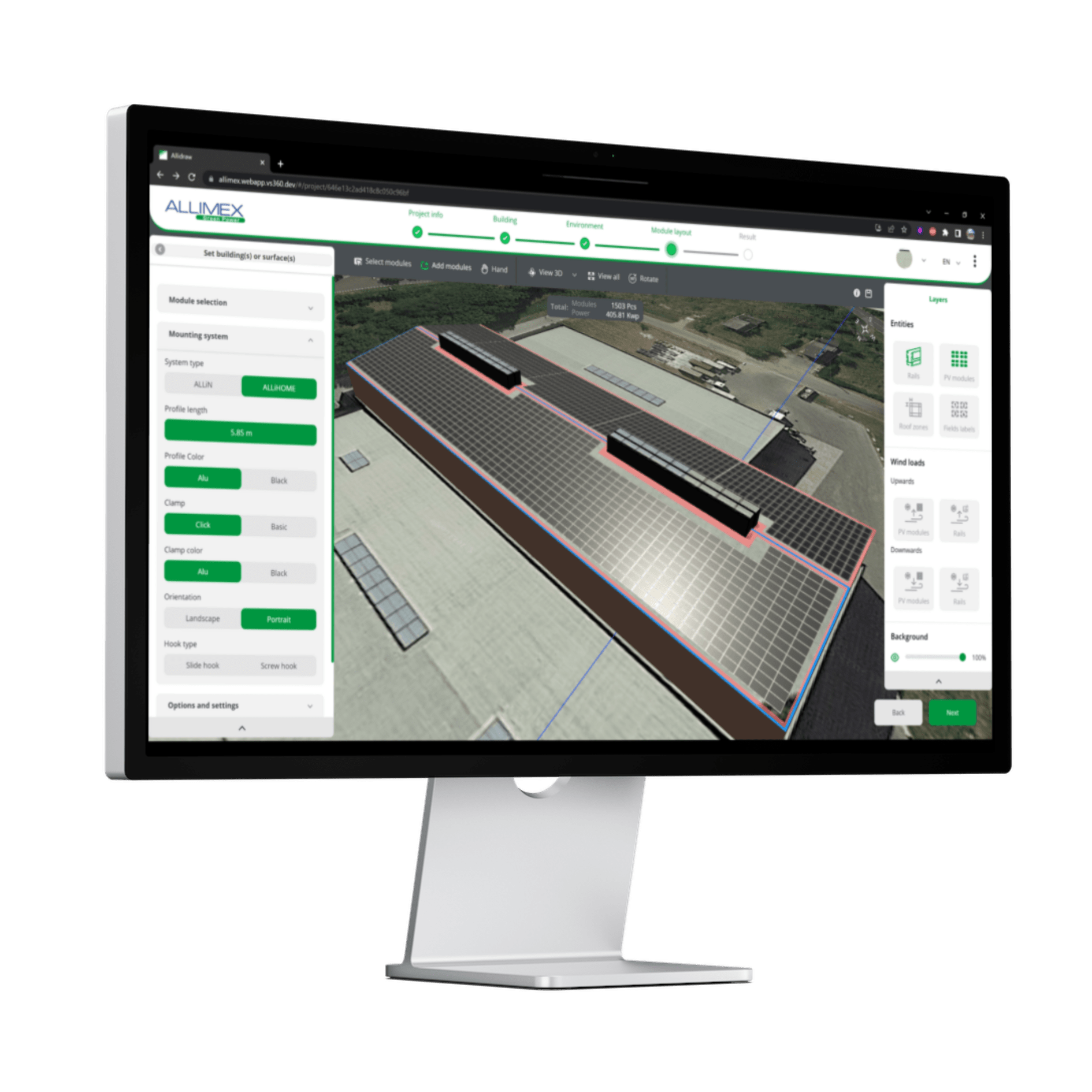 Virto.CORE is an advanced white-label PV design framework.
It is used to build customized web applications for mounting system manufacturers and wholesale to automate the solar design and engineering process.
Virto.CORE for your business
Virto.CORE  is easy, user-friendly and does not require any prior 3D or CAD knowledge, making it a valuable calculator for solar businesses.
This web app allows to automate the design process extended with customized features such as static load calculations (ballast), Eurocode calculations (wind and snow loads), bill of materials and reporting.
Boost your design process
Virto.CORE is typically used by mounting system manufacturers, wholesalers and suppliers. However, this PV solar design framework can also be used by any other company in the solar business that needs customized design tools to automate its processes.
By using Virto.CORE you will be able to plan, design and prepare reports in an efficient and time saving way. It's currently applicable for both flat and sloped roofs – and soon also for ground mounted projects.
Why choose our solar PV design software
Virto.CORE contains tools to easily create buildings in 3D automatically without any prior 3D knowledge.
It is possible to choose from a wide selection of options, such as flat / open gables, a shed or hip or any other obstacles.
After selecting the desired obstacles, these can be added to a rooftop with just a flew clicks.
Automated Eurocode calculations​
The Virto.CORE framework allows to automatically calculate wind speed, snow load zones and height above sea levels. These calculations are based on location and country specific terrain category maps. Additional information is integrated to assist the solar engineer selecting the applicable terrain category.
Automated module layout design
The framework offers more than 10K pre configured solar modules. In case the type of solar module you  need for your project is not available, it is possible to enter the data of a solar module yourself.
In addition, you can select substructures and configure dilatation rules.
After this, you can either generate your layout automatically or draw your own. We have integrated easy-to-use tools which allow you to adjust, move, delete or duplicate solar modules.
Strength verification for sloped roofs
Our software calculates the maximum forces for substructure and solar modules for uplift and downlift and will give warnings when safty limit is reached.
Ballast calculations from windtunnel data for flat roofs
The functionality to convert a wintunnel data result to ballast services can be integrated by a 3rd party software. This is also applicable to intelligent ballast spreading and grouping distribution for economical or maximum point load limitations.
Calculate Bill of Materials
After creating the project, it is possible to automatically calculate all the required items and quantities needed in a "bill of materials" report.
Generate report in pdf / csv
Virto.CORE provides customizable PDF reports containing all project details : environment setting, location, solar panel and mounting system included in the project, building plans, BOM, strength verification, ballast, point load -plans. 
Excited to start designing your solar project?
Want to know more about what Virto.CORE can do for you and your company?
 Contact us a for a custom quote or schedule a meeting for more info.
Request a free trial, schedule a demo, give us your feedback or ask us anything!
Simply drop us an email or give us a call.
Our team will be happy to assist you.
Subscribe to our newsletter